There's several other areas in which I've either done substantial work in the past, or I've started developing my ideas reasonably seriously for future work. I've divided it here into three main areas: evidence & policy, alcohol research, and other Social Policy.
Truth, power and critique: the role of social science
I have a continued interest in the relationship between evidence and policy - both in terms of how it works in practice, and how it should ideally work according to practical considerations and ethical principles. I think this is a crucial area for researchers to think more about, so I teach aspects of this Masters students on the research methods course I teach on (SO832)
I've presented some initial thoughts on this at the Social Policy Association conference in 2008 and 2009, titled 'Against evidence-based policy: over-claiming social research and undermining effective policy' and 'Should researchers make policy recommendations at all?' respectively; and am presenting at a workshop in Edinburgh in June 2014. The best starting place, though, is the Queens' Anniversary Prize lecture I gave at York in Feb 2014, available via YouTube. I'm planning to conduct future research in this area, and I'm always interested in speaking to potential collaborators on this too.
Alcohol work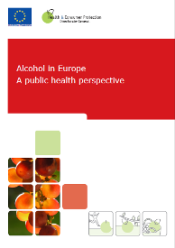 From 2004 to 2008 I worked as the Policy and Research Officer at the Institute of Alcohol Studies (IAS), and since then I've done further work with the IAS and the World Health Organization (WHO)'s European Office as well as within academic research teams. I was lucky enough that I began working at the IAS when they had been commissioned by the European Commission to write a report on the health, economic and social impact of alcohol in Europe, which became the 450-page volume 'Alcohol in Europe' (Anderson and Baumberg 2006). You can listen to a podcast about the process of writing the report on Libby Ranzetta's Alcohol Policy UK blog.
Since then I have primarily worked on four different areas of alcohol policy:
I am also involved in a more minor way in other areas of alcohol research. Firstly, I am involved (as a co-applicant) in a current MRC project on 'Alcohol Policy Modelling and Evaluation', which is being led by Prof Petra Meier at the University of Sheffield (and incorporates the work on alcohol and pleasure above). Secondly, the EU-funded ALICE RAP project (see under CSR above) also includes a work area that tries to look in an interdisciplinary way at addiction, again led by Prof Petra Meier.
Other ideas in Social Policy
As seen in my founding/co-editing of the Inequalities blog, I'm keen to find better ways to theorise the nature of inequality. I presented at a British Sociological Association post-graduate symposium on 'Do we need a grand theory of inequality?' in 2011, and some of my embryonic thoughts are available in blog posts here, here and here. I'm currently developing a proposal with others at LSE to develop this both theoretically and as a blueprint for empirical work.